Flying Finn Future Star
The Project
Finland is a country famous for its successful rally drivers. It's been like that for a long time, still is and hopefully will be well into the future. AKK Sports Oy, organizer of Neste Rally Finland, began a project in 2014 to find promising new drivers with the intention to speed up their progress towards an international career and world level status.
In 2019 there will be two Flying Finn Future Star Awards
1) After five first rounds of Finnish Rally Championship (FRC), one driver will get a free entry to Neste Rally Finland
The chosen driver gets a chance to show his stuff in the spotlight, as he is handed a deal comprising an rally car, full service, tyres, fuel, entry fee, pre-rally testing, coaching and consultation regarding dealing with PR and media relations.
Winner: Sami Pajari
2) After all the seven rounds of FRC, on driver will get a seat to Junior WRC (or same kind of series) for season 2020'
The award is sponsored by M-Sport, Pirelli and Corego.
Springboard - Finnish Rally Championship
Judgement on who is viewed as the best young driver is based on success in the Finnish Rally Championship. AKK Sports acts as the series' promoter with local clubs organizing individual events. Participants in Flying Finn Future Star contest must compete in class SM3 for cars with R1 or R2 FIA homologation.
This increasingly popular class is especially favoured by young drivers, because it keeps the costs at reasonable level. It also serves as a good springboard to an R5 or Super2000 car. Citroën, Ford, Peugeot and Skoda are represented in the class.
Selection process of 2019
First award: All five 2019 Finnish Championship rounds taking place before Neste Rally Finland will count towards graduation to a special selection event. Candidates must compete in SM3 class and be born on 1.1.1994 or later. The drivers holding top five positions in the points table after those four rallies will be invited to participate in this selection event.
An analysis of each candidate's driving will be carried out based on his performances during the season. Furthermore, physical and psychological qualities will be tested, as well as prowess in dealing with PR and the media.
Second award: The criteria are the same as in the first award, but the winner will get a JWRC package for season 2020.
FFFS competitors 2019
| | | | | |
| --- | --- | --- | --- | --- |
| Name | Birthday | Club | City | Car |
| Ajari Piiroinen | 19.8.1999 | Lahden UA | Jyväskylä | Ford Fiesta R2 |
| Aleksi Röyhkiö | 13.6.2000 | PR-Rac | Ylöjärvi | Ford Fiesta R2 |
| Arttu Lähdeniemi | 18.11.1999 | PunMK/UA | Punkalaidun | Ford Fiesta R2 |
| Heikki Koski-Lammi | 5.11.1996 | JaMoKe/UA | Jalasjärvi | Citroen C2 R2 |
| Henri Hokkala | 27.8.1994 | ALTI | Tikkakoski | Peugeot 208 R2 |
| Joonas Huovinen | 21.8.1998 | Keski-Karjalan UA | Joensuu | Citroen C2 R2 Max |
| Juho-Koski Lammi | 20.12.1999 | JaMoKe/UA | Jalasjärvi | Citroen C2 R2 |
| Kalle Markkanen | 1.3.1999 | EMSC | Espoo | Peugeot 208 R2 |
| Lauri Joona | 7.12.1996 | Sastamalan UA | Sastamala | Ford Fiesta R2T |
| Markus Manninen | 11.8.1994 | UUA | Akaa | Ford Fiesta R2 |
| Niko Kalmi | 14.9.2000 | Hyvinkään UA | Hyvinkää | Citroen C2 R2 |
| Roni Kauppi | 12.4.2000 | LakUA | Ii | Citroen C2 R2 |
| Sami Pajari | 1.12.2001 | HelUA | Lahti | Ford Fiesta R2 |
| Toni Tuominen | 20.12.1996 | LohUA | Lohja | Citroen C2 R2 |
SM3 standings after 5/7 rallies
1. Lauri Joona 76p *
2. Sami Pajari 75p *
3. Joonas Lindroos 75p
4. Arttu Lähdeniemi 48p *
5. Henri Hokkala 46p *
* Flying Finn Future Star Driver
Flying Finn Future Star 2019: Sami Pajari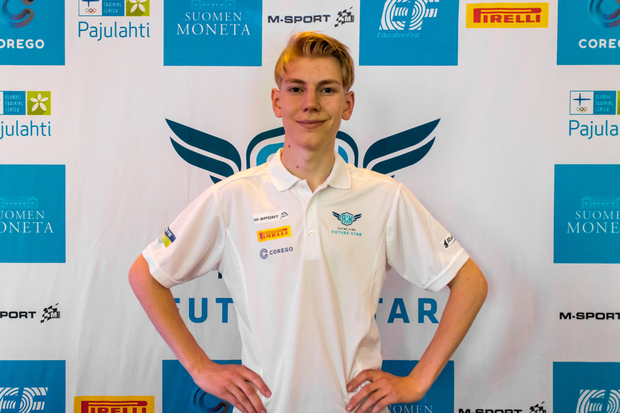 Sami Pajari of Heinolan Urheiluautoilijat has been chosen as the Flying Finn Future Star for 2019, emerging as the winner of the competition organised by AKK Sports Oy to seek out promising young rally drivers. Along with the title Pajari receives a full rally car and support package for the Finnish round of the WRC calendar, Neste Rally Finland, as well as a fabulous opportunity to show his stuff at the wheel of an M-Sport Ford Fiesta in the JWRC class at the start of August (1.-4.8.).
The final of the Flying Finn Future Star competition was staged at Liikuntakeskus Pajulahti, Lahti on June 17th-18th. The drivers to reach the final were Lauri Joona, Sami Pajari, Arttu Lähdeniemi and Henri Hokkala, of whom Hokkala eventually did not take part in the final phase.
At Pajulahti the drivers were put through their paces thoroughly using a series of physical and psychological tests. In addition, their language abilities and reconnaissance skills were also assessed before the final interviews. On the basis of the complete test battery the jury eventually gave its nod to Sami Pajari, for whom one big dream is now about to come true.
For Pajari winning tasted particularly sweet, since he took his very first Finnish Rally Championship victory the previous weekend in the SM3 class.
- It feels absolutely fantastic. At the start of the year I'd never have imagined that we'd be going all the way to Neste Rally Finland. Ever since I was a young boy I've had this dream. On the day the physical tests were pretty tough, pushing very close to the limit, in order to establish exactly how things stand, but now the feeling is just great, Pajari says with a smile.
Juuso Pykälistö, an experienced rally driver and member of the official jury, was fully convinced that the choice of winner was spot on.
- In terms of maturity Pajari was the best to take on Neste Rally Finland, and performed most evenly with least experience. The event is now less than two months away and then in particular the ability to make pace notes is key, and that's where he excelled. His methodical approach, analytical skills and attitude to preparation were what convinced us, Pykälistö explains.
The Flying Finn Future Star programme is a great springboard for young drivers, but easy it is not
By winning the final Lahti-based Pajari can realize at least one of his dreams and take part in Neste Rally Finland. The victory means that Pajari follows in the footsteps of previous winners of the title – earlier known simply as Future Star - drivers Teemu Suninen (2014), Jari Huttunen (2015), Juuso Nordgren (2016), Emil Lindholm (2017) and Henri Hokkala (2018). Of these Teemu Suninen in particular has managed to forge a path to the top and enter the world's elite in WRC.
- On Neste Rally Finland I'll try to be as good as I can possibly be in every area. I'm going to prepare to the very best of my ability and pull out all the stops where getting to know the route and boosting my fitness, for instance, are concerned. I plan to take every ounce of benefit from the support available around me and the people who are involved in the undertaking, Pajari emphasizes.
Neste Rally Finland's promoter Jani Backman was also a member of the jury, who were faced with the tough task of settling on a winner.
- First of all, on the basis of the competition results the trio were very evenly matched. Pajari, however, was in the final analysis the smoothest performer across the test as a whole. His development curve has been rapid and he has achieved solid results at such a young age that we have every confidence about putting him into a WRC event, Backman says of the jury's verdict.
The Flying Finn Future Star competition has received substantial support from both M-Sport and Pirelli.
- M-Sport has always been closely involved in seeking out and supporting young drivers. We are hopeful that collaboration of this type will bring us new winners down the line. This is a fantastic opportunity to compare a new talent to established JWRC drivers, says Maciej Woda, who heads M-Sport's JWRC project.
The Flying Finn Future Star programme will continue until the end of the Finnish Rally Championship 2019 season, at which point following the same blueprint young drivers will again get to compete for the next top award. The prize during the second part of the competition is a works seat in Junior WRC (or equivalent) for the 2020 season.
Sami Pajari, profile:
Born: 01.12.2001
Place of residence: Lahti
Career: 2016 first competitive drive at Lahti Rallisprint, 2018 Finnish Rally Championship for Young Drivers, first season in Finnish Rally Championship
Car in Finnish Rally Championship series: Ford Fiesta R2
Flying Finn Academy athlete (AKK's national junior team of motorsport, Rookies group)
Flying Finn Future Star 2019 jury:
Juuso Pykälistö
Experienced WRC driver
Mikko Markkula
WRC co-driver
Jani Backman
Promoter, Neste Rally Finland
Tiina Lehmonen
NEP Finland & Member of FIA's Women in Motorsport Commission
Previous winners of the competition:
2018: Henri Hokkala
2017: Emil Lindholm
2016: Juuso Nordgren
2015: Jari Huttunen
2014: Teemu Suninen
The Flying Finn Future Star – how, where, when?
You can follow the project throughout the season through the various information channels of Finnish Rally Championship and Neste Rally Finland.
Names of the finalists will be published after the Finnish Rally Championship round in June and the decisive selection event takes place before the end of the month.
When the winner has been announced his path towards the prize drive in Neste Rally Finland will be followed on the event's website and on its social media forums. A pre-event TV-programme of the project will be screened at a date to be confirmed.
Official Partners