Japanese co-driver Sayaka Adachi finishes on podium after her 'toughest rally yet'
Japanese co-driver Sayaka Adachi has finished on the podium of the Tahko SM-Ralli in Finland: round three of the Finnish Rally Championship that she is contesting alongside Jarkko Nikara this year as part of the TOYOTA GAZOO Racing Rally Challenge Program.

She described it as "the hardest rally I have done in Finland yet", due to the fast and narrow snow-covered roads, with plenty of junctions. Nonetheless the duo secured a third-place finish with no major problems, to consolidate their third place in the championship.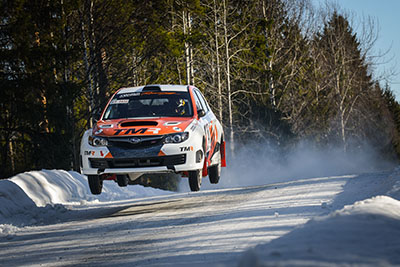 Nikara/Adachi

The Tahko SM-Ralli took place in central Finland, based at a well-known ski resort. Temperatures hovered around zero degrees centigrade for all six stages on Saturday, which totalled 104.32 competitive kilometres. The stages were very technical, with a high average speed but plenty of changes of rhythm, meaning that it formed a massive challenge for the Japanese co-driver.

Nonetheless, the crew finished just 14.9 seconds behind the winners, and only 8.7 seconds behind the second-placed crew: both of whom were driving state of the art R5 cars. With the emphasis on Sayaka's learning programme this year, she and Jarkko are in a Subaru Impreza R4: which is slower and heavier than the cars of their direct rivals.

Jarkko and Sayaka led after the first stage, and then held third place from SS2 onwards, showing both speed and consistency to set top-three stage times regularly. A chance to improve on their position during the final 32-kilometre stage was hampered by a delay that meant they had to sit on the start line for 45 minutes, by which point they lost most of the daylight and had to complete the stage just with normal headlights rather than a light pod. An additional problem on that stage was the water temperature rising to 130 degrees, which meant that they had to back off anyway to ensure a well-deserved podium.

Quotes:

Sayaka Adachi
"I think that was the most difficult rally I have ever done in Finland! The roads were fast and narrow, but also there were many junctions and changes of rhythm, so the timing of the pace notes was really important. The most complicated stage because of all the junctions was probably SS4, but we were still third on the stage and just one second behind the leader, so I was very happy with that. I know I still have a lot to learn, but I have the best possible teachers and I feel that we are making good progress all the time."

Jarkko Nikara
"The partnership with Sayaka is really nice and we are enjoying driving together. I don't think we could really have gone any quicker on this rally. With every event, Sayaka is getting more used to the rhythm in Finland so it was another very good job from her. There are still one or two places where we can improve with the delivery of the pace notes, but no big drama at all, which is very impressive."

Jouni Ampuja (TOYOTA GAZOO Racing Rally Challenge Program instructor)
"It's been another good rally for us, where Jarkko and Sayaka have really been on the limit of the car. To set the times they have been doing against the R5 cars is a great achievement and in the end their gap to the leader is quite small. For Sayaka it has been particularly challenging to be on the limit like this, so she has done a really good job. Of course there are some areas to make better, both with timing of the notes and navigation on road sections, but this is exactly why we have the training programme and her potential is very clear."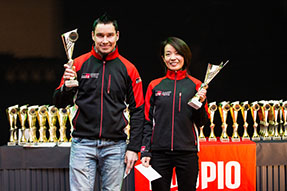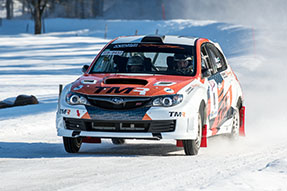 Results:
| | | |
| --- | --- | --- |
| 1 | Teemu Asunmaa/Jonne Halttunen (Skoda Fabia R5) | 52m03.9s |
| 2 | Juha Salo/Jarno Ottman (Peugeot 208 T16 R5) | +6.2s |
| 3 | Jarkko Nikara/Sayaka Adachi (Subaru Impreza WRX) | +14.9s |
| 4 | Marko Manty/Joni Makela (Citroen DS3 R5) | +33.0s |
| 5 | Jesse Turunen/Kari Kallio (Hyundai i20 R5) | +52.1s |


What's next:
For Adachi and Nikara, this was the last snow rally of the season and their next rally will be the Finnish Rally Championship at the Riihimäki Rally on gravel from May 19-20. Before then, the TOYOTA GAZOO Racing Rally Challenge Program will be back in action on the opening round of the Italian Rally Championship, Rally Il Ciocco, next weekend. Takamoto Katsuta and Hiroki Arai will both be driving Ford Fiesta R2s for their first asphalt rally of the year.